Embark on a journey like no other with our Shell Series Trailer. Built with the same meticulous attention to detail and rugged durability that Turtleback Trailers is known for, the Shell Series offers an incredible balance of comfort, convenience, and versatility.
Modular.
Light Weight.
Rugged.
Whether you're venturing into the mountains, navigating desert trails, or setting up camp by the beach, this trailer is your perfect companion. Its compact design doesn't compromise on storage space, ensuring you have all the essentials you need for your adventure. So, get ready to explore the great outdoors and make lasting memories with the Shell Series Trailer, your home away from home.
*Trailer shown with Modular Drawer System (MDS) Add-On
GETAWAY SHELL
EXPEDITION SHELL
GETAWAY SHELL
CONSTRUCTION
WELDED 2 X 3 GALVANIZED TUBE STEEL CHASSIS WITH 11 GAUGE ALUMINUM FLOOR SYSTEM
11 GAUGE ALUMINUM MAIN BOX, REAR DOOR, AND NOSE BOX
TAILGATE WITH SPARE TIRE MOUNT SWING OUT TAILGATE WITH FLIP-DOWN TABLE. MOUNTED ON IDLER HUB ASSEMBLY
2,000 LB SWING AWAY NOSE JACK
MAX COUPLER
INCLUDES CHARGE LINE, BRAKE CONTROLLER LINE, RUNNING LIGHTS, SIGNAL LIGHTS, AND REVERSE LIGHTS
TIMBREN AXLE-LESS 3,500 LB. SUSPENSION
STANDARD WHEELS AND ALL-TERRAIN TIRES
AVAILABLE UPGRADES
TURTLEBACK SIGNATURE SUSPENSION
STAINLESS FLIP-DOWN TABLE
PROPANE TANK
CRUISEMASTER DO35—WITH OR WITHOUT HANDBRAKE
TURTLEBACK ROOF RACK—WITH OR WITHOUT TABLE BOX
FRONT RUNNER ROOF RACK
MODULAR DRAWER SYSTEM (MDS)
Compatible with our Modular Drawer System Add-On, talk with our sales team to get this add-on added to your build.
EXPEDITION SHELL
INQUIRE TODAY FOR
THE SHELL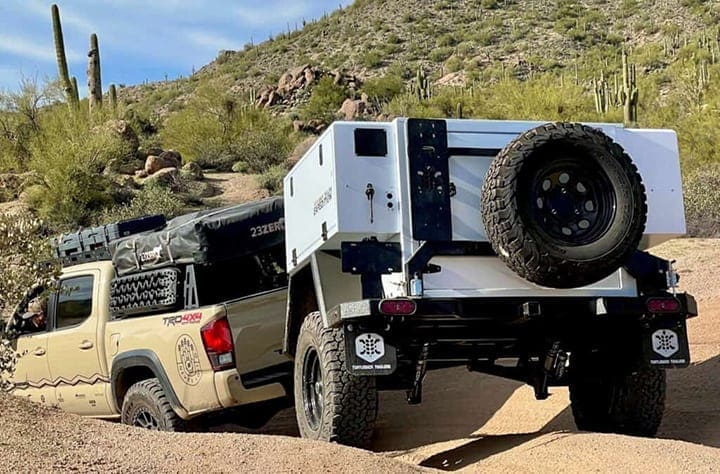 At Turtleback Trailers, we're not just crafting trailers, we're creating companions for your unforgettable adventures. As a proud veteran-owned and operated business, we infuse our products with resilience and dedication, building them to withstand the toughest terrains. Choose Turtleback, and experience the unrivaled durability and versatility that makes us the premier choice in the overland and camping market.